Let's get (com)passionate.
The ultimate love letter doesn't have to rival Shakespeare (though it can) or sweep someone off of their feet (though that's a fun bonus).
The ultimate love letter is simply a love letter that creates more love—for your sweet self, a sweet someone, or a dear friend or family member.
Join Elephant's Editor-in-Chief, Waylon Lewis, for guidance on how to write with meaning, without cliché, and straight into love.

4 writing prompts.
Start with writing a love letter to your favorite food (really), and work your way up to writing to your favorite someone.

2 Elephant Journal articles.
Learn about the Buddhist approach to Love—a love with space, a love without attachment, a love that is founded in Maitri.

5 video lectures.
Waylon will guide you through writing prompts, examples, and insight-packed feedback. Learn by seeing, and then by doing.
What you'll learn:
✏️ The two ways to write a love letter, and why one might be better.
✏️ How to honestly approach love by first practicing Maitri.
✏️ How to avoid clichés in your writing.
✏️ Simple writing exercises to walk you through the process of sharing your love with those you care about—from your favorite food to your life partner.
Why learn to write a love letter with Waylon Lewis?
Waylon is the author of Things I would like to do with You., which has sold over 22,000 copies and is the best-selling book, ever, at our local independent Boulder Book Store. (That's a big bookstore, and a big honor.)
"Love is no thing, and nothing is a gift, space is a playground, and time and distance are merely cold peaks and green valleys in the topography of genuine love. Love does not require a map: it makes its way across the miles. Love does not heed the time; it does not care for one or two moons. Love is not bothered by obstacles—they form the high sides to the left and right of this rocky path. This path does not depend upon external signs: love will find its own way. And my love will wait, a tiger in the tall grass, and my love will relax and curl up then stretch out and nap and sigh. I am here."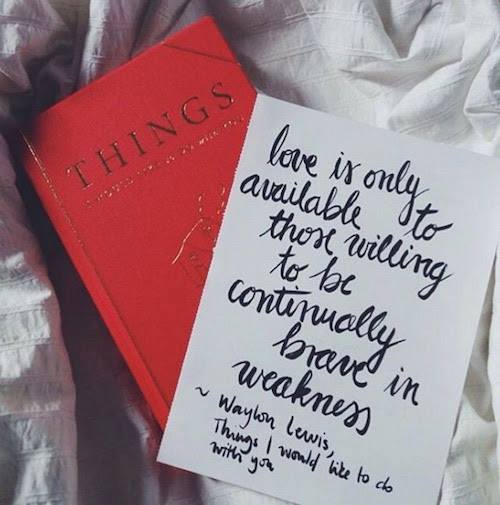 Check your inbox to confirm your subscription