What is Elephant Academy's Find your Voice course?


Find your Voice is a self-paced, online course with community, and expert guidance from Elephant Journal's Editor-in-Chief, Waylon Lewis.
This course isn't (just) about writing, and it isn't (just) for writers. It's about the fundamental life skill of finding your own voice, owning the power of that voice, and using it for good.
You're here to find your heart, share it, and inspire others to do the same.

Who is this course for?


Do you have a heart? Do you have a voice? Do you have wisdom to share?
Then this course is for you.

Questions? Drop us an email (we love to chat).


I took the Find Your Voice program mainly because I love Elephant Journal and I wanted to get more involved with the Elephant Community. This program exceeded my expectations. My writing has significantly improved thanks to this course. The messages were simple, clear, and so effective.
I highly recommend it. 
~ Yael Terramel Weisbach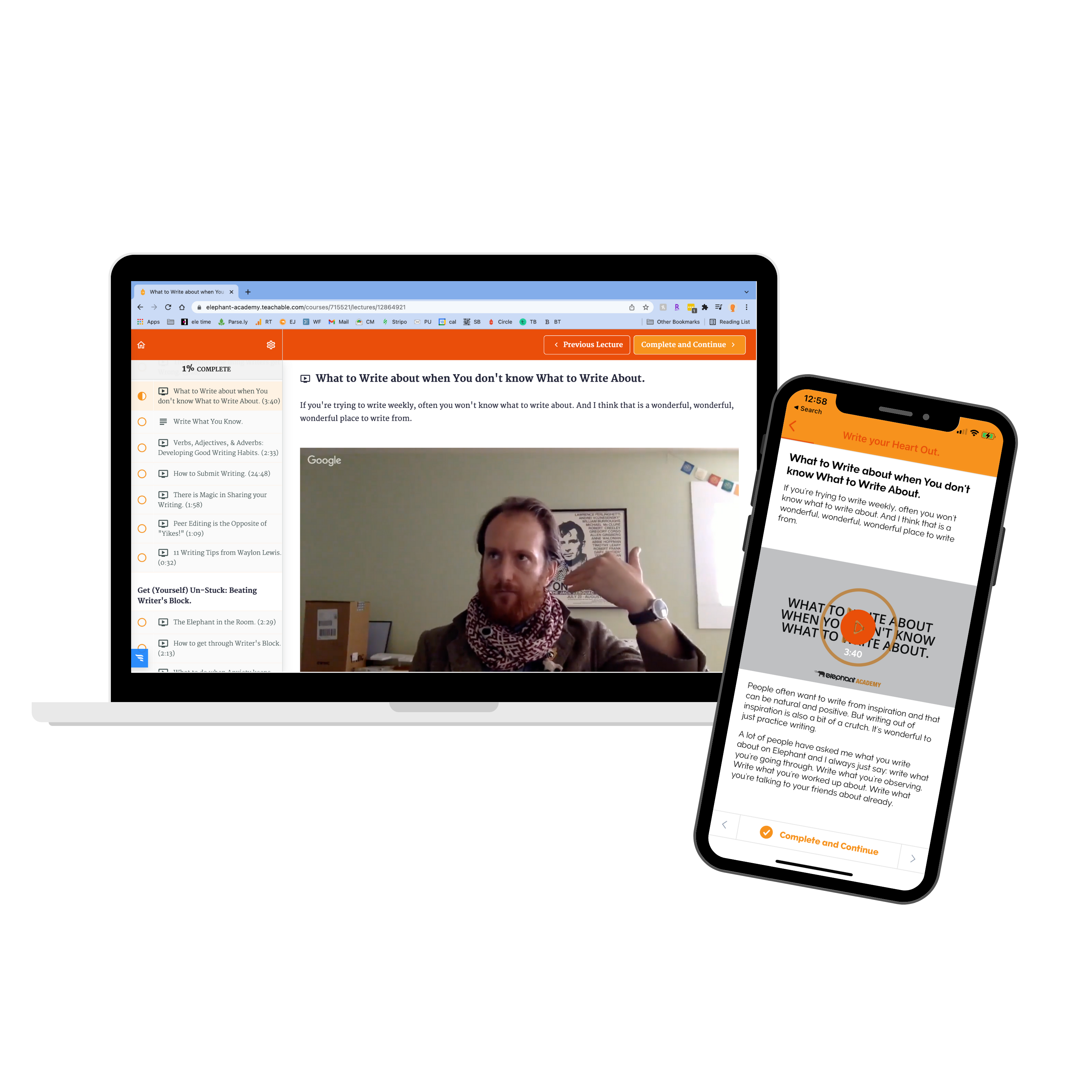 What's in your course:


• 12 hours of video lessons from Waylon Lewis and guest stars—some of the most wonderful thought leaders & writers in our world, today.
• A jewel-like recommended reading list & our precious tool-kit for mindful writing & editing.
• Mindful Quizzes to check your learning as you go.
• Writing prompts to guide you to your voice.
See a sample of your course curriculum here.
Bonus #1: Access to live class archives from 2019 & 2020 for a dozen additional hours of training with Waylon & the Academy.
Bonus #2: "A Writer's Guide to Maitri," free download.
Bonus #3: Any future updates we make to the course are yours, automatically.

By the end of your course, you will:


• Develop a consistent writing practice and learn to stop fearing writer's block, imposter syndrome, and vulnerability.
• Use mindfulness tools to develop your writing practice, and your connection with yourself.
• Gain the confidence to share your story with our world—a world that desperately needs truth, genuine communication, and connection.
• Do all of this while experiencing submitting writing to an active publication.

Interested, but not ready?
We'll keep you in the loop about mindful offerings, free events, and new course releases.