Uncover the power of your voice, and build a community with real engagement and real revenue for you or your work.
Who is this bundle for?
📓 The Writer who has a story to tell, and wants to share that story with our world.
💻 The Entrepreneur who wants to improve their written communication and grow their Instagram community.
🧡 The Mindful Lifer Looking to deepen their relationship with their sweet self & others.
Write your Heart Out.
Our self-paced Write your Heart Out course isn't just about writing. It's about uncovering the power of your voice, and using that voice to have a real impact on our world.
What's in the course:
Mindfulness tools to develop your connection with yourself, and your ability to be sane in the midst of insanity.⁠
Conversations with and lessons from best-selling authors and thought-leaders.
Lessons, writing prompts, and guided meditations to help you overcome writer's block and write with specificity & clarity.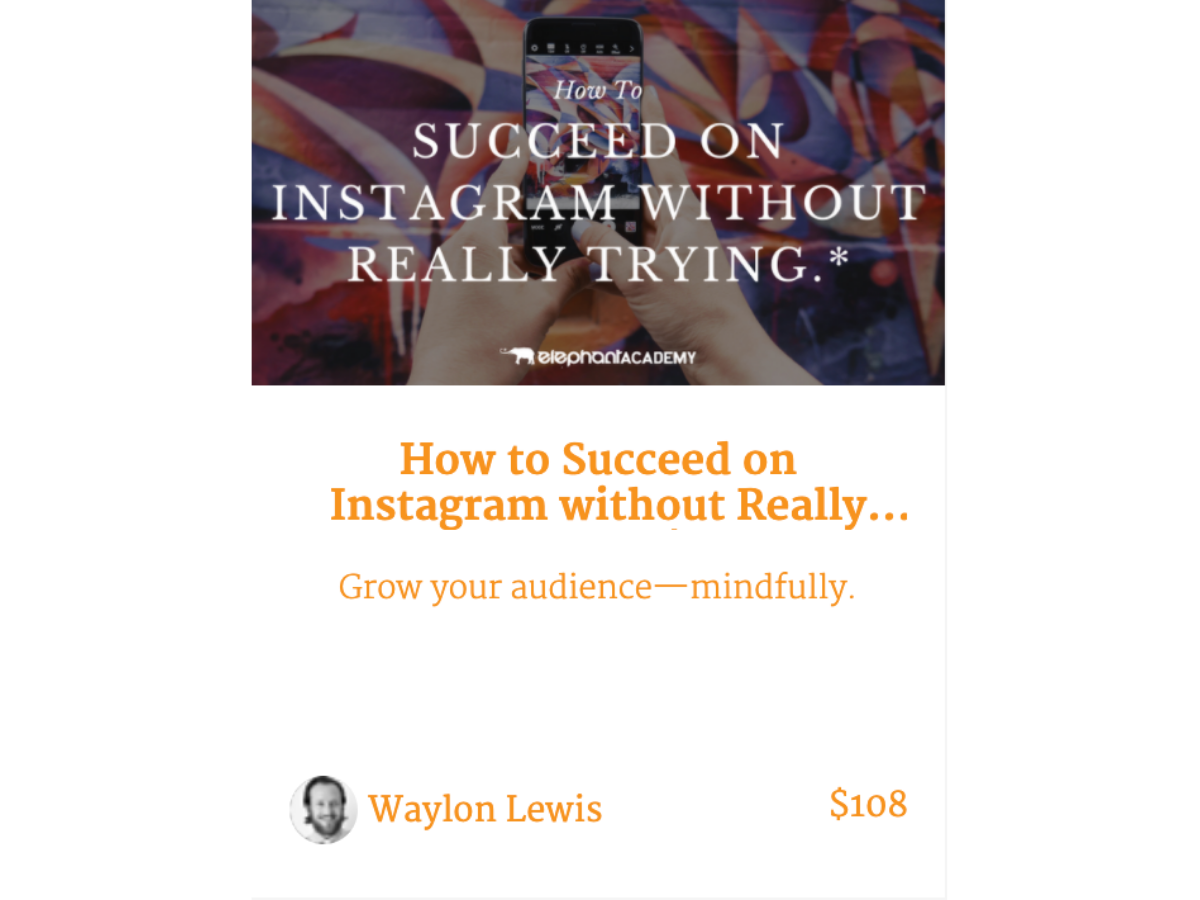 How to Succeed on Instagram without Really Trying.*
Learn how to do Instagram mindfully, while building a community with real engagement and real revenue for you or your work.
What's in the course:
Mindful Instagram basics.
Video guidance with Waylon Lewis, Elephant's Instagram team, and mindful influencers.
Downloadable checklists, guides, & resources that are actually fun to read.

I've grown my Instagram following over 6x...
...and I've done it all with skills I learned with Elephant Academy. I had no idea how important social media is to our writing. Whatever your passion is, the Academy can enhance it. ~ David Baumrind

I couldn't put a price tag on the benefits of the course.
I built my confidence, went to an interview for my dream role, and following the completion of the course I won a number of awards at work. ~ Jade Halliday

The Academy has added so much meaning to my life.
Not only have I found my voice with Elephant Academy, I was taught the skills to develop it into a loud and clear one, and learned how to promote my message via social media, with the purpose to be of benefit. ~ Galina Singer
Interested, but not ready?
We'll keep you in the loop about mindful offerings, free events, and new course releases.