Waylon Lewis teaches Find your Voice.

Get vulnerable, get brave, get grounded, get open. Let's do it together.


What is Elephant Academy's Find your Voice course?


Find your Voice is a 6-week, live course with community and expert guidance from Elephant Journal's Editor-in-Chief, Waylon Lewis.
This course isn't (just) about writing, and it isn't (just) for writers. It's about the fundamental life skill of finding your own voice, owning the power of that voice, and using it for good.
You're here to find your heart, share it, and inspire others to do the same.

Who is this course for?


Do you have a heart? Do you have a voice? Do you have wisdom to share?
Then this course is for you.

When's the course?
March 10 - April 14th, 2022
Weekly trainings take place on Fridays at 10 a.m. MST, and are available for replay if you can't make it live.
Questions? Scholarship inquires? Drop us an email (we love to chat). We'll be happy to help.


I took the Find Your Voice program mainly because I love Elephant Journal and I wanted to get more involved with the Elephant Community. This program exceeded my expectations. My writing has significantly improved thanks to this course. The messages were simple, clear, and so effective. The classes and meetings were deep and honest as well as fun and fascinating. 
I highly recommend it. 
~ Yael Terramel Weisbach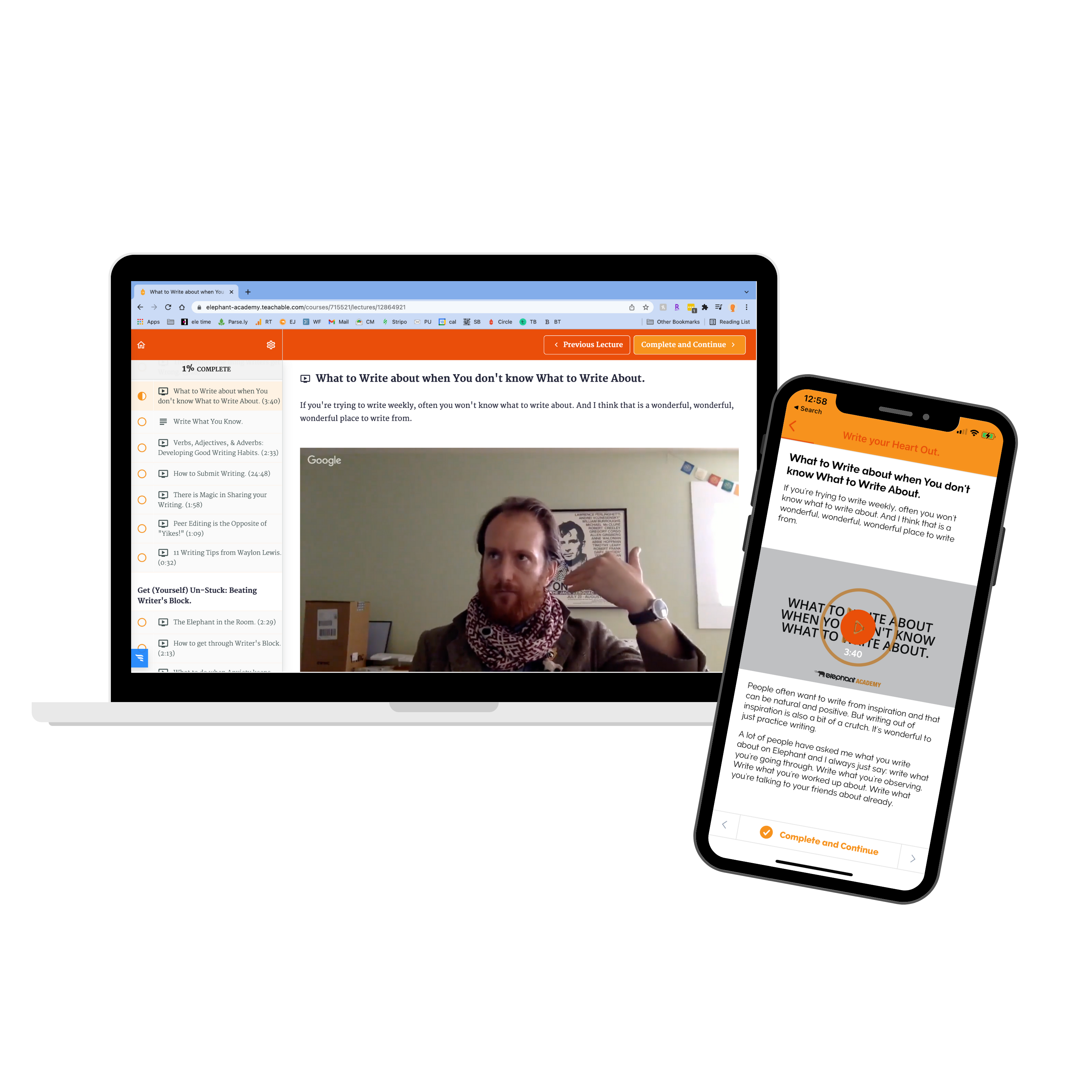 What's in your course:


• 6 live classes with Elephant's Editor-in-Chief & a community of peers from all over our world.
• 12 hours of video lessons from Waylon Lewis and guest stars—some of the most wonderful thought leaders & writers in our world, today.
• Access to our private Academy Slack channel.
• A jewel-like recommended reading list & our precious tool-kit for mindful writing & editing.
• Mindful Quizzes to check your learning as you go.
• Writing prompts to guide you to your voice.

"I've loved every bit of the Academy. I'm the best version of myself because of this course, and I've never felt more like me. For someone who's felt lost most of her life, that's huge."
~ Sharon DeNofa

"Elephant Academy has given me the tools to become a writer with authenticity. I didn't know I needed that going in, but I realize now it was the most significant missing piece to what I needed in writing and living, both."
~ Greg Simmons

"I had been writing for ages, but the Academy helped me hone my skills and find a balance between writing my heart and writing something that would be of benefit. The publication of my words has opened up unexpected doors in the years since. And the connections I made will be forever. Huge thanks, Waylon, for allowing us into your beautifully crafted world."
~ Jessica Chardoulias
By the end of your course, you will:


• Develop a consistent writing practice and learn to stop fearing writer's block, imposter syndrome, and vulnerability.
• Use mindfulness tools to develop your writing practice, and your connection with yourself.
• Gain the confidence to share your story with our world—a world that desperately needs truth, genuine communication, and connection.
• Do all of this while experiencing submitting writing to an active publication.


My only regret is that I didn't take this course years ago. If you're looking for a place to begin or improve your writing and evolve into a better human—this is your place. The folks on this journey will welcome you into the fold. The writing lessons in the course are spot on—practical and applicable. The only downside is that it ends.
~ Dhana Musil

How the Find your Voice Course Works:


• Work through your online course alongside your peers each week.
• Join Waylon for a live class every Friday at 10 a.m. MST. All meetings are available for replay if you can't join live.
• Check-in on Slack throughout the week for peer-led conversation, course questions, writing inspiration, and peer editing.
• Submit writing each week to elephantjournal.com, sharing your voice and your stories with Elephant Journal's millions of monthly readers.

Want to give Spring Elephant Academy to a loved one? 

Easy. Just follow this link and follow the directions to purchase the Find your Voice course for a lucky someone in your life.

New, this Spring:
Find your Voice [live} & Write, Publish and Sell the Hell out of your Book: the Bundle.
Bundle the self-paced How to Write, Publish, & Sell the Hell out of your Book course with the live Spring 2023 Find your Voice course and save 50% on our Book course.

This Spring, we're going to do Elephant Academy: you know, writing our hearts out, finding our voices, workshopping our writing with readers, peers, and mentors, as well as Elephant's editors...

...practicing Maitri, the Buddhist path of making friends with ourselves, and sharing our healing journey with others...

...but we'll also aim to begin and perhaps complete a project, whether a book, an article, a work of poetry. If you're inspired to work on your idea for a book, get this Bundle: it's a comprehensive guide to eco, mindful publishing, marketing, writing...and profit.

Interested, but not ready?
We'll keep you in the loop about mindful offerings, free events, and new course releases.